Oracle Commerce Workbench
Oracle Commerce 11.2 introduces new feature called project capabilities in Experience Manager. It's control for business users to isolate their changes and publish them to the live site.
Below are what Oracle Commerce 11.2 documentation says:
- This allows business users to work on multiple sets of changes with different team members mimicking a real world process without worrying about their changes being overwritten or accidentally going live. 
- Business users always work within the context of projects in Experience Manager. 
- Multiple users can work on the same project. If users working
on different projects end up modifying the same asset, they get notified of the conflict and the reason for the same. 
- A simple prebuilt approval process that allows users to make changes and commit them is available. 
- A user is not forced to create a project in order make a small tweak to the site. He can make the needed changes and a project is automatically created in the background for him. 
- There is a simple two step out of the box approval process that allows a user to make changes in a project context and commit these changes
- Preview in Experience Manager has also been enhanced to support projects, allowing business users to preview changes they made in the project before publishing.
Also looking into publishing database for CRS application, we can find few tables related to workbench for storing project ID details.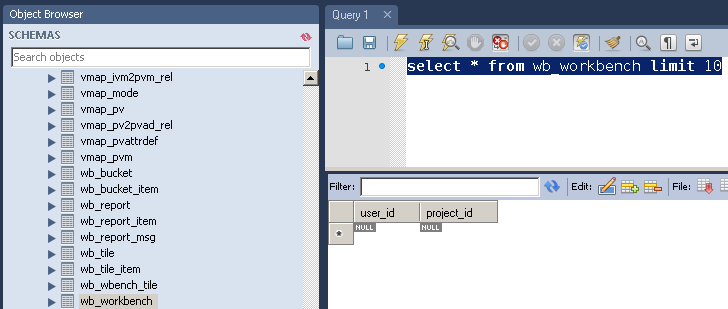 Below are highlighted benefits:
 Improves business users' confidence in using the tool by providing visibility into the changes that
will be committed to the site once they publish a project.
 Allows teams to work on different projects simultaneously without fear of accidentally seeing their
changes in production. Business users can work on their changes in isolation and publish them
together when done.
 Automatic project creation allows users to continue working on their business issues without the
tool getting in the way.
 Project conflict detection equips the business user to make informed decision about the changes
they are about to publish.
 Experience manger projects reflect the real-life structure of project teams by allowing multiple
users to work on multiple projects in parallel.
Oracle Commerce MDEX Engine
Updated Oracle Language Processing and New Language Support
For full list of changes go HERE